i spent the whole morning in starbucks, to do some revision for marketing and i had my hot choc as well ;)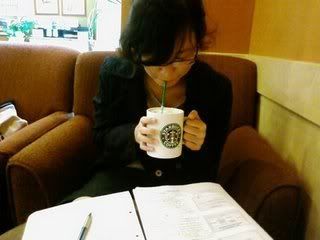 with the bestie lee tien!
*tsktsk
anyway the paper was urm, OK! but im actually kinda happy if i got 10/20. ahhh, i wonder how many marks i have wey!

anyho, cant really spill everything out, damnit! *smackhead
i damn hate when i read tru the question and i KNOW the answer,
but i just cant spill it out!

its like neeeeeeeeh, omg omg what's the answer already,
hmph hmph hmph

ended up leave it blank! or crap some shit for the question
haihs!
i bet you have this kind of feeling before
-________-